This Awesome 'Thomas & Friends' Wooden Play Table Is On Sale Today
Toys 'R' Us is slashing prices on a bunch of other 'Thomas' trains too.
by Dave Baldwin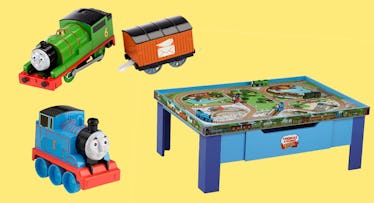 Toys R Us
Most letters to Santa haven't yet been scribbled yet, but many will eventually be filled with toys from Thomas & Friends. Kids love that damn tank engine, even if some parents think he's a terrible role model. If yours is one of them, get out your credit card ⏤ Toys 'R' Us is giving you one day to score Thomas & Friends trains at steep discounts. Here are a few of the best deals:
Wooden Railway Grow With Me Play Table
The biggest big-ticket sale from the Island of Sodor is, by far, this room-anchoring play table. Regularly priced at $200, it's rolling for $135 and comes with both a two-sided board ⏤ one side is a traditional view of Sodor, the other is pre-grooved for track ⏤ and a built-in drawer for all the trains and track (sold separately).
Trackmaster Thomas and Percy' s Railway Race Train Set
Not one of the traditional wooden sets, the Railway Race pits two motorized engines against one another in a race. It's inspired by the Thomas & Friends DVD movie, The Great Race, and includes six-feet of track and flags that wave when the trains roar by. It's on sale for $30.
Motorized Engines
Pick a character, any character, and their motorized engine is likely on sale, either marked down from $15 to $9 or $17 to $12. In addition to Thomas, Emily, and Percy, there's Merlin the Invisible, Gordon, and Toby. Plus, Steelworks Thomas! They're made for kids 3-years-old and up, require 2 'AAA' batteries, and are compatible with most TrackMaster track and playsets.
To see all the marked-down trains before the day's end, click here.