This Summer Camp Was Shut Down Because 82 Kids Got COVID-19
by Isabella Bridie DeLeo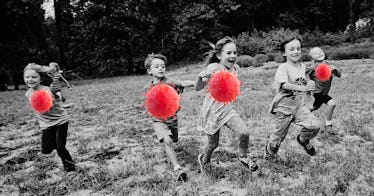 As many Americans sheltered-in-place in the spring, summer camp organizers deliberated about how, and if, they could be open for business after schools (virtually) were out for summer. Some have postponed operations or gone remote as COVID rates of infection continue to surge throughout much of the country, but other camps like the Kanakuk camp, a Christian K-2 camp in Lampe, Missouri stayed open. However, the camp is now closed down. The situation is many parents' worst nightmare.
Despite the camp saying that it had established a myriad of rules and protective measures in place for campers, such as providing hand sanitizers for each cabin, administering daily temperature checks, setting up supposedly medical grade air filtration systems to try and kill the virus, and plenty of time outdoors, 82 campers and staff have contracted coronavirus and the camp is now shut down, according to Buzzfeed News.
Rebecca Duncan, the camp's health service director, emailed parents to advise them in taking important health precautions for their families after the camp closed its doors. "As your Kamper returns home," Duncan wrote, "we recommend that you consider a 14-day self-quarantine for your child and monitor for symptoms of COVID-19," according to a report from NBC News. When children returned to their families, they fanned out to ten different states, possibly flying by plane in the process.
Somewhat terrifyingly, the number of cases at the camp seemed to escalate very quickly, with 41 cases on July 2, and a whopping 82 by Monday. In a Facebook post, health officials wrote that they are "working closely with Kanakuk Kamps to identify exposed individuals and quarantine those individuals, as necessary." According to KY3, around 5,000 kids have participated in a Kanakuk Kamps program since the summer began. It seems like this Missouri camp could serve as cautionary tale if more camps do open up?
This article was originally published on