This State-By-State Map Shows the Economic Devastation of COVID
COVID-19 has had a disastrous effect on local economies of all kinds.
by Isabella Bridie DeLeo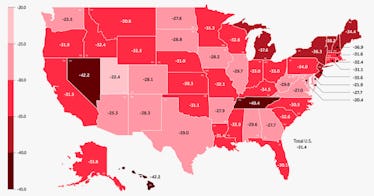 Visual Capitalist
The economy, and as a result many American families, are suffering because of the COVID-19 pandemic. According to a sobering report, the financial data from Q2—i.e., April, May, and June—shows that the U.S. GDP contracted by around $2 trillion during those months, shrinking from $21.6 trillion in Q1 to $19.5 trillion in Q2. That's a staggering statistic. But a new map from Visual Capitalist puts those numbers into perspective in a way that might hit even closer to home for families, examining what GDP looks like on a state-by-state and industry-wide basis. It also underscores the importance of supporting local businesses (safely), whenever you can. The map shows that, unsurprisingly, the Accommodation & Food industry saw the shrinkage in 17 states, with Hawaii, suffering the most at an -18.85 percent loss of GDP from Q1 to Q2, in addition to a Real GDP loss of -42.2%.
A percentage loss in this category is expected, as many families are traveling and eating out less, but it is poignant nevertheless. Nevada and Vermont also saw a sharp decline in that industry, with a -15.62 percentage loss and -8.52 loss, respectively. And Nevada, the home of Las Vegas, is particularly hard hit, with a Real GDP loss of -42.2% between the quarters, tied for the worst in the nation.
But what does this all mean nationally? The data shows that the U.S. GDP from the Accommodation & Food sector dropped by 4.38%. Equally troubling, especially during a pandemic, is that 18 states saw a loss in GDP for the Healthcare & Social Assistance industries. Tennessee experienced the biggest loss in this sector, with a -6.25 percent change, and also a Real GDP loss of -40.4%. Rhode Island and Montana followed, experiencing a -5.73 and -5.67 percent loss, respectively. In other industries, New Mexico showed the biggest GDP loss in the Mining, Quarrying & Oil / Gas Extraction sector. Overall, the data is quite troubling, and it likely will not be improving soon, as many states still surge with COVID cases and a stimulus package that could help ease the pain of many of these industries stalled by partisan infighting.