This Little Girl's Headless Halloween Costume Will Haunt Your Dreams
It's serious nightmare fuel.
by Alicia Kort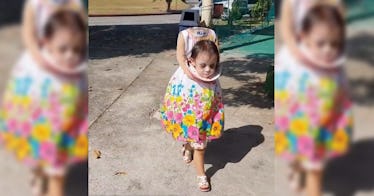 kryshteta/Instagram
Instead of going as a Disney princess, friendly member of the animal kingdom or one of the classic Halloween monsters, this little girl named Maya decided to go as something so scary that Hollywood should make a horror movie about her costume. Her mother, Krystel Hwang, captured a video of her daughter walking around in her terrifying costume. She's wearing a bloody flower girl's dress and holding her own decapitated head.
Watch out Shining Twins, there's a new girl in town. Maya was trick-or-treating in Southbay Village, Philippines, along with her sister, who went as a very bloody butcher. A love of horror clearly runs in this family.
Maya's Halloween costume isn't just nightmare-fuel though. It's got a very practical purpose that makes us wish that we had worn this kind of costume when we were kids. Hwang posted another video of Maya receiving some candy. She isn't carrying a pumpkin basket to collect her candy like the majority of young trick-or-treaters, so they can examine their haul as they go from house to house or person to person. Her costume is doing the hard work for her instead. When she goes up to collect her treats, the woman puts the candy in the empty space where her head and neck should be. It's s got to be the most efficient headless costume ever made.
Several high profile people spotted the costume on Twitter, too, including Paul F. Tompkins who promised the girl unlimited amounts of candy for being so awesome.
Maya wins this Halloween with her original, innovative and completely frightening costume. We just hope we don't see this little flower girl anywhere outside of this spooky holiday.
This article was originally published on