This Kid Just Won Halloween With His 'Tommy Boy' Costume. What'd You Do?!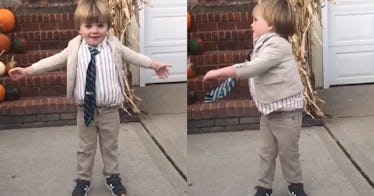 antoed827/instagram via barstoolsports/instagram
Among the many gifts Chris Farley left after he died is Tommy Boy, the classic 1995 comedy in which Farley plays the titular failson, a drunken, immature mess who takes seven years to graduate college before returning home to help run the family business. When his father dies, it's up to Tommy and the uptight Richard (David Spade) to become traveling salesmen and sell enough brake pads to prove to the bank that Tommy can successfully manage the family business that's worth continued investment.
It's a great comedy, and it's most memorable moment is undoubtedly "Fat Guy in a Little Coat," a simple, stupid song that only Farley could pull off.
Tommy spends the movie trying to prove that he's enough of an adult to fill his dad's shoes, with much of the comedy coming from his inability to do so. Farley was a great fit for the role because his comedy always exuded childlike energy, his physical movements resembling those of a kid who has just undergone a growth spurt and isn't quite sure how to operate his newly larger frame.
Farley's characters, Tommy in particular, are correspondingly often struggling to act their age, which makes them natural fits for children's Halloween costumes, as the kid in a newly viral clip demonstrably proves.
The enterprising young man (or, more likely, his parents) decided to dress up as Farley in Tommy Boy for Halloween this year, so doing his own rendition of "Fat Guy in a Little Coat" was an essential move.
His parents shared it on Instagram, and it's honestly delightful. Arms straight out, chest puffed, rotating at the waist while singing the silly, sing-songy number, which Farley does at a high pitch that suits a child's singing voice.
It's a reminder that while your kids might want to dress up as Marvel or Star Wars characters, those are far from the only roles that can inspire great Halloween costumes.