This Four-Year-Old Drummer is Already More Talented Than All of Us
He's like a miniature Questlove.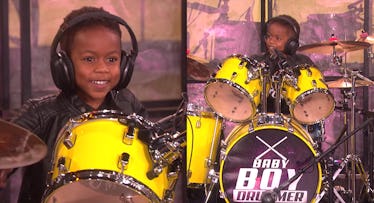 TheEllenShow
At the ripe age of four, Justin "LJ" Wilson II has already racked up over 323,000 Instagram followers. He's a cute little kid for sure, but he's attracted so much attention because he's a musical wunderkind and a drum kit is his instrument of choice.
BabyBoyDrummer, as he's known on social media, lives in Fullerton, California with his parents Justina and Shelana. They're both musicians — dad just won a Grammy for a jazz arrangement of the Spider-man theme and mom is a vocalist — but neither is a percussionist.
Justin's latest TV appearance was on The Ellen Show. Perched behind a bright yellow kit with BABY BOY DRUMMER emblazoned on the bass head, Justin beamed at the audience as he launched into "Fly Away" by Lenny Kravitz, trying to keep his over-ear headphones from slipping off of his head.
Things were tame until Justin started an elaborate solo. The camera cut to his parents in the audience, the only two people whose smiles were bigger than Justin's.The producers wisely included shots of Justin playing from the side to show how fast his arms were moving. He's so small that it's pretty impossible to see his flailing from the front.
After a standing ovation from the crowd, Justin bounded over to chat with Ellen. He told her he'd been playing drums since he was 18 months old and spoke in what sounded like catchphrases — "A looooong time" and "I sure do!" Then Ellen gave him a bunch of PJ Masks swag, which he promptly freaked out about as his appearance ended.
Justin released an album, LJ's World, last year, but it's his drum-centric performances that are really compelling. He has a performance at the Golden State Warriors game coming up on March 5, and what we can only imagine will be an illustrious career in music further ahead.
This article was originally published on