This Adam Driver Kids' Shoes Meme Will Make Tired Parents Feel Better
JUST PUT THEM ON WE'RE LATE
by Joel Cunningham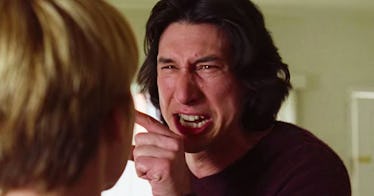 Netflix
A few weeks ago, Saturday Night Live perfectly illustrated the exquisite horror of dressing kids in their Sunday best, and now, the latest version of the Adam Driver Marriage Story meme has done the same for the daily struggle that is the application of shoes to a child's feet.
Shared on the Alright Mom Facebook page, the meme perfectly captures the four stages of shoe warfare that even cool dads like Adam Driver face on the reg:
1. Denial
"Reed, I know you want to keep playing with your trucks, but we need to get our shoes on now so we don't miss the bus. I bet you can do it super fast!"
2. Bargaining
"Ok, now we're definitely going to be late. If you can get your shoes on before I count to 10, you can have a quarter for the vending machine after school and I won't rip the heads off of your stuffed animals."
3. Anger
"PUT your FOOT into that SHOE and CLOSE the VELCRO or I will… WAIT WHEN DID YOU TAKE YOUR SOCKS OFF?!"
4. Resignation
"That's ok. He's so strong-willed, he probably doesn't need to go to school. We can just stay home… forever."
It's ok, parents. We've all been there. Probably this morning.
This article was originally published on