These 'Star Wars' LEDs Are the Coolest Night Lights Around
Optical illusion or Jedi mind trick?
by Dave Baldwin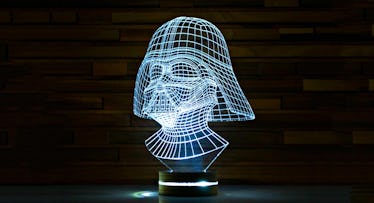 It might not be a Jedi mind trick, but these Star Wars lamps will definitely play games with your eyes. Turned off, they're a flat piece of etched acrylic glass (2D perspex wireframe if you want to get technical) in the shape of a popular character (or ship) from the franchise ⏤ be it Darth Vader, BB-8, or the Millenium Falcon. They sit in a black base and resemble an award you might receive for winning the office Halloween costume contest, assuming, of course, you went dressed as Kylo Ren. Switch them on in the dark, however, and suddenly you're in Obi Wan's desert abode looking at a 3D hologram and waiting for Princess Leia to plead for your help. They're mesmerizing.
Even more so because your kid ⏤ as it is a night light for their room, after all⏤ can toggle between one of eight colors (blue, cyan, purple, etc.) simply by pressing the button on the front. Or it can be set to rotate through them all.
The lamps stand 9-inches tall, have a lifespan of 50,000 hours (or until they make three more movies), and are advertised as "limited-edition," even though they're seemingly sold all over the internet and don't appear to be in short supply. At least not enough to think they're going to be a collector's investment in 20 years. They also have a USB port for the power supply and generate no heat, so they're safe in the nursery.
As for the nine characters/ships available, they tend to lean more droid and Dark Side ⏤ Yoda and the aforementioned Falcon being the two good guys in the mix. Otherwise, BB-8 and R2-D2 are flanked by Vader, a Storm Trooper, a Tie Fighter, an AT-AT, the Death Star, and the Sith Lord. So yea, a lot of Empire in the house.
They're currently sold on multiple sites online for anywhere between $39 and $60.
This article was originally published on