These Photos of This Giant Meteor Fireball Are Wild
People in at least 15 states saw this thing.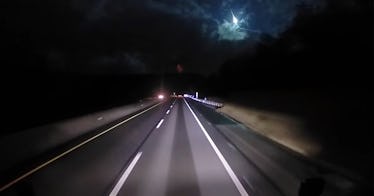 Trucker Beetle Bailey @ youtube.com
Early risers in the eastern half of the country who happened to be outside just before 6:30 this morning caught a glimpse of an unexpected sight: a brilliant fireball flashing across the night sky.
The unexpected celestial firework prompted over 320 reports to the American Meteor Society in a region that spanned from South Carolina to Chicago to southern Ontario. The preliminary trajectory computed based on those reports has the fireball traveling from South East to North West, ending its visible flight somewhere over North Benton, a township on the northern edge of Ohio.
A fireball is defined as a meteor that is brighter than Venus when it enters Earth's atmosphere. Fireballs, particularly one this bright, are very rare.
And thankfully for those of us who were far away and/or sound asleep, lots of people were able to get brilliant shots of the fireball — now known as the AMS #2020-5441 event — and share them on social media.
A trucker driving on I-76 in Pennsylvania got a great shot of the action with his dash camera and posted the video to YouTube.
A woman on an early dog walk sent a few pictures to WTOV in Steubenville, Ohio, that clearly show the trail of the fireball in the night sky.
Another video of the fireball came courtesy of a security camera in New Lyme, Ohio. It shows the quick crescendo of the light into a bright flash followed by a slightly longer fade into darkness.
The Ohio Department of Transportation helpfully collected footage from several of its surveillance cameras into this reel, which gives a better sense of how the fireball lit up the entire sky.
This article was originally published on