The WrestleMania Dad Meme, Explained
An incredible mullet and fighting stance made George Mizanin the breakout meme of WrestleMania 35.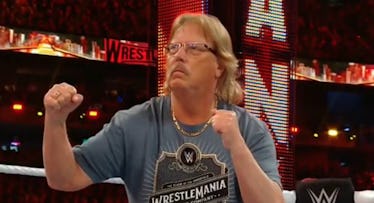 WWE
If you're vaguely aware of WrestleMania, then you probably know it's the biggest spectacle in professional wrestling. On Sunday, the 35th WrestleMania had a lot going on: including an unprecedented number of female wrestlers, and a memorable victory from Kofi Kingston. But, in terms of internet memes, none of this was the main event. Instead, the dad of one wrestler in specific has taken the spotlight.
George Mizanin is the father of Mike "The Miz" Mizanin. Mike was facing off against Shane McMahon, himself the son of WWE chairman Vince McMahon. Before the match began, the elder Mizanin showed up in the ring clad in what seemed to be a brand-new WrestleMania shirt—a dad move if we've ever seen one.
And while he did rock a sweet 'stache, it was Mizanin's luxurious mullet that the Internet celebrated, along with his dead serious facial expression and dukes-up fighting stance straight out of Vaudeville. One of the first tweets recognizing Mizanin's epic dadness came from comic book writer B.J. Mendelson.
That picture was the basis for several of creative Photoshop efforts. The Miz's dad quickly found himself cast in Avengers: Endgame in a twist that no one saw coming.
He also traveled back in time and through some kind of Wreck-It Ralph portal into the world of video games. More specifically, taking on Raiden in the original Mortal Kombat game.
Plenty of other wrestling fans weighed in, quickly turning George into a folk hero.
And while the younger Mizanin lost his match, his dad's place in meme history is secure.