The Sesame Street Gang Will Explain COVID-19 to Kids in CNN Special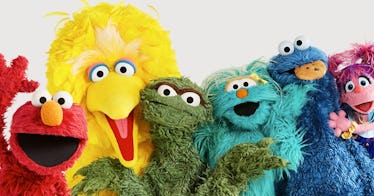 Sesame Workshop
The COVID-19 pandemic is a massive, complicated phenomenon, the kind of thing it's damn near impossible to coherently explain to kids assuming that you don't want to scare them to death. Thankfully, as they have been since 1969, the Sesame Street gang is here to help.
With the help of CNN journalists Sanjay Gupta and Erica Hill, Big Bird will moderate "The ABC's of Covid 19: A CNN/Sesame Street Town Hall for Kids and Parents." An all-star cast of Sesame Street favorites, including Elmo, Gover, Abby Cadabby, and Rosita, will help explain the effects the pandemic is having on kids' lives.
Education, anxiety, screen time, and playdates are among the topics on the agenda, and at least some of the special looks like it will be prompted by audience questions. CNN is accepting written questions from parents that you can submit on its website, along with your name and contact information.
The town hall follows a special episode of the show that aired on six WarnerMedia networks last week. In "Elmo's Playdate," Lin Manuel Miranda, Anne Hathaway, and Tracee Ellis Ross joined characters like Cookie Monster, Elmo, and Grover as they adjusted to the realities of social distancing while celebrating the medical personnel working on the front lines.
The CNN town hall looks primed to pick up where that episode left off, comforting kids and doing what's really hard for parents at the moment: making sense of what's happening.
"The ABC's of Covid 19: A CNN/Sesame Street Town Hall for Kids and Parents" airs at 9 a.m. ET on Saturday.
This article was originally published on