'The Office' Kids' Book Is Like Muppet Babies For Dunder-Mifflin
Good lessons for kids, plenty of jokes for parents.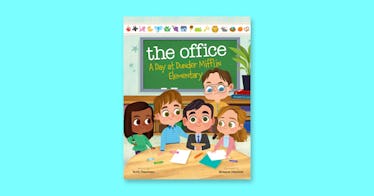 The American version of The Office turns 15 this year, and the show's popularity shows no signs of abating. A podcast featuring two of its stars gabbing about the show debuted last year, and its upcoming disappearance from Netflix looks is panicking long-time fans, as it's one of if not the most streamed shows. It is also an inspiration to children's book authors and illustrators. After the success of last year's Fun at the Office!, another author is taking a stab at introducing your favorite Northeastern Pennsylvania based mid-size paper company employees to a new generation.
The Office: A Day at Dunder Mifflin Elementary is a 40-page, illustrated appreciation of the show. It was written by Robb Pearlman, who's also penned other pop culture-inspired titles like Star Trek: Body by Starfleet, Rick and Morty Book of Gadgets and Inventions, and The Bob Ross Cookbook. Melanie Demmer's illustrations show pint-sized versions of the show's characters.
It's definitely a unique approach, as we can't think of another sitcom that's gotten what we're calling the Muppet Babies treatment. And if we might break a rule and judge this book by its cover, it looks pretty damn cool.
The story centers around Michael Scott, the line leader at Dunder Mifflin Elementary who totes around a "World's Best Line Leader" water bottle because of course he does. The only problem is that he doesn't seem to know how to lead the line.
Just like his adult counterpart, young Michael Scott is unqualified to do the job he has. But unlike his future regional manager self, young Michael Scott learns to ask for help, and the book aims to impart that message — that everyone needs to ask for help sometimes — to kids.
The book also has plenty of jokes and references to the show that parents who've been watching and rewatching for a decade and a half will appreciate. All in all, it seems like the kind of book that will leave everyone smiling and satisfied.
The Office: A Day at Dunder Mifflin Elementary goes on sale on October 6, 2020, but you can preorder it now.