The Nintendo Classic Is Finally Coming Back to Stores
The gaming giant made good on its promise to bring back the miniature version of its classic system.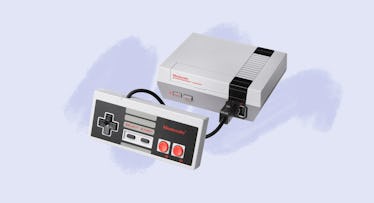 Time to tune up that warp whistle and brush up on your mushroom kingdom parkour. After an abrupt and ignominious end to its initial debut last fall, the NES Classic, Nintendo's shrunken down version of the original gaming system, will make its way back to store shelves sometime in 2018.
The NES Classic was one of the most sought-after toys of 2017. But after its initial run last November sold out before most could even get in line, Nintendo never restocked. The company cited vague production issues and said would let eager shoppers know when new systems would be ready. However, no announcement was ever made — and folks trying to get some of that sweet, sweet nostalgia drip were none too pleased. Yes, Nintendo did make up for it with the release of the SNES Classic, a miniature version of their second system that also came preloaded with original games. Still, people demanded the original NES.
But Nintendo redeemed itself today, going on Twitter to announce an extended run of the Super NES Classic followed by news that production of the Classic system would restart early next year. When the system would hit shelves, however, remains a mystery.
Vagaries aside, duped fans are probably pretty psyched — while eBay resellers are trying to offload their goods before the holiday hits. For the uninformed, the new improved version of the NES is smaller and can be easily plugged into your TV via HDMI cable. It features 30 built-in games (including Castlevania and Super Mario Bros. 1, 2, and 3) so you don't have to blow into them until you pass out in order to play). It even comes with a rectangular controller like back in the day, and it can also connect to a Wii remote too.
While we're happy the NES Classic is returning, we can't help but wonder why Nintendo is waiting until after the holiday to release it. Perhaps they've been ingesting too many of those spotted shrooms Mario and Luigi love so much. If you can't wait, you can also pick up another retro console — or just find a site that lets you play classic Nintendo games online. The longest you'll have to wait is the five minutes it takes your flash reader to download.
This article was originally published on