The Next Adorable Pixar Short Will Be a 'Simpsons' Story
After all, the last time the show made a short that aired before a computer-animated film, it was nominated for an Oscar.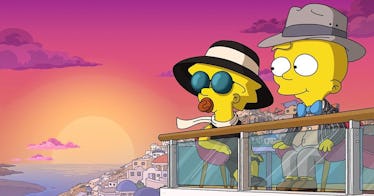 If you're excited to see Pixar's Onward with your kids — and according to a Fatherly editor who saw it early, you absolutely should be — we've got some good news and some bad news. The bad news is that Pixar didn't make a short film preceding its latest feature, a departure from a wonderful tradition. The good news is that the creative team behind The Simpsons did.
"Playdate with Destiny" is the name of the new short, and according to a post on the show's official Instagram, it will focus on Maggie. The art shows her in sunglasses and a scarf, pacifier firmly in her mouth, sitting on a balcony overlooking what looks like a seaside Greek village alongside a large-headed baby in a fedora and bow tie.
Alas, there's not a lot more information available about this project, but we're optimistic that "Playdate with Destiny" will be a winner given the success of a similar previous effort.
"The Longest Daycare," another Maggie-centric short, played before 2009's Ice Age: Continental Drift. It was much more memorable and successful than the feature it preceded, earning an Oscar nomination. It's also amazingly still on YouTube and well worth your four minutes and 53 seconds.
Disney's acquisition of Fox paved the way for this collaboration by putting Pixar and The Simpsons under the same corporate umbrella. This isn't necessarily great news — we're pretty nervous about this weekend's Marvel-themed episode of The Simpsons, for instance — but the excellence of its previous effort and the sterling legacy of pre-Pixar shorts gives us plenty of cause for optimism.
"Playdate with Destiny" will screen exclusively in theaters, so make sure you show up in time to see what exactly happens to Maggie on her playdate.