The Internet Is Rallying Behind a Teen Girl Who Was Body-Shamed at Church In Viral Video
The 19-year-old was followed into the church bathroom and berated by a fellow member.
by Catherine Santino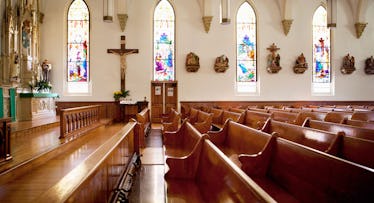 A teenager's brutal encounter with a stranger in a church bathroom is sending shockwaves through the internet. 19-year-old Jenna of Swansboro, North Carolina shared a heartbreaking Twitter video of a woman body-shaming her, saying she's "too fat" to wear shorts.
The clip shows the woman, a church leader named Bonnie Sue Bihary, telling Jenna that another "chubby" girl is wearing along dress, and that she should do the same. Jenna's caption says that the woman followed her into the restroom before verbally attacking her. Though clearly (and understandably) very upset, Jenna fires back at Bihary, telling her to leave her alone.
In a follow-up post, Jenna expressed how hurt she was to experience such hatred in a place that's supposed to be loving and accepting. She also said that she showed the clip to her pastor, and Bihary was removed from her leadership positions. In response to the incident, the church (Swansboro United Methodist Church) published a letter condemning Bihary's actions. On Twitter, Jenna also said the had this happened two years ago when she was suicidal, "I honestly don't think I would be here today."
Twitter users reacted strongly to Jenna's post, but the teen discouraged any hateful words toward Bihary. An outpouring of support has ensued, with stars like actress Jameela Jamil reaching out to the teen with words of encouragement. "So horrified to watch what you were put through," Jamil wrote. "You don't deserve that…well done for fighting back."
So many others commended Jenna on her strength in standing up for herself: "Your tears break my heart," wrote one user "You are a strong woman! Keep that positivity!"
"Sweetheart you are awesome," said another. "Do not pay any attention to that lady…she is not worth the bother! I only believe in karma, and think she will get hers."
This article was originally published on