The Girl Scouts Are Back, And Thank God, They Have A New Cookie
A cookie that could double as breakfast.
by Isabella Bridie DeLeo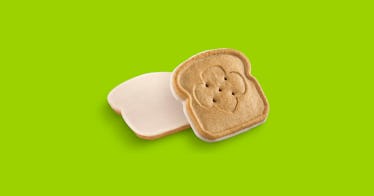 Listen up, folks: This is your reminder that the
Girl Scouts' season is fast approaching, and despite the COVID-19 pandemic, the Girl Scouts have graced us with a new cookie. It sounds too good to be true, I know, but it's happening. Be prepared to stock up on a few (or a few dozen) boxes this winter. And since many of us are probably already eating Halloween candy now, the Girl Scouts news at least gives us a good excuse to eat dessert, since buying a few of their cookies has the added bonus of doing some good in the world and supporting troupe members' education.
What's The New Cookie?
If you're a fan of Cinnamon Toast Crunch or anything French Toast-related, then you're in luck. The new cookie, called Toast-Yay, is set to be available in select areas. The Girl Scouts' website describes the cookie as such: "Each delightful, toast-shaped cookie is full of French toast flavor and flair and stamped with the trusted Girl Scouts' signature trefoil on top." Somehow the phrase, "Girl Scouts' signature trefoil," reads as oddly comforting, in that even during these difficult times, the Girl Scouts are still here, and safely bringing the world joy via baked goods.
How Will Girl Scout Cookie Season happen with COVID-19?
Like a lot of school's reopening plans, the answer is: it depends on where you live. Some areas will have Girl Scouts deliver cookies in-person, but cookie sales have primarily gone virtual. Mark your calendars, the national start-date for the Girl Scout cookie season revs up in January, as Parents.com
writes, although the specific date for your area will depend. You can check when that is on the Girl Scouts' website.
Where Can You Buy Girl Scout Cookies?
To stock up virtually, you'll have to find a Girl Scout who is participating in the Scouts' "Digital Cookie" platform, i.e. an online "cookie booth." This will be the Girl Scouts' second season in a row with virtual cookie sales available, and last year they did a "Cookie Care Challenge," where when boxes were purchased, they would donate a box of beloved Thin Mints or Do-Si-Dos, or the cookie flavor of choice, to a first responder. With the prospect of Girl Scout cookies on the horizon, and especially the new Toast-Yay cookie, families can get excited by the prospect of the Girl Scouts' famous cookies, plus the benefit of knowing you're supporting a local Girl Scout and her educational and entrepreneurial endeavors.
This article was originally published on