The Funniest Tweets About the Super Bowl LIV Halftime Show
From the incredible fitness of 50-year-old Jennifer Lopez to Shakira's tongue, there was plenty to laugh about.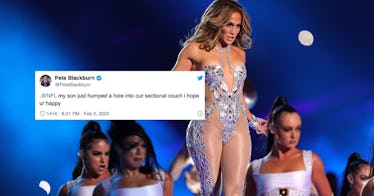 GETTY; Twitter
The early reviews are in, and last night's Super Bowl halftime show, the annual highlight of the evening for people who hate football, is going down as a classic. And as with any spectacle as widely watched as this one, Twitter had plenty to say.
Some of those tweets came from pearl clutchers scandalized by what Jennifer Lopez and Shakira were(n't) wearing, the kind of people who are still mad about Janet Jackson's boob. But we're going to ignore them to focus on the funniest reactions to the show.
One thing a ton of people focused on were the respective ages of the two stars of the show. There was a huge spike in searches for both "jennifer lopez age" and "shakira age" presumably from people in awe of how in shape they were.
One moment that got a lot of attention was Shakira's zaghroota, a traditional Arabic celebration chant meant to honor her Arabic roots. But on Twitter, it became a funny tongue moment, and folks were ready with the GIFs almost as soon as it happened.
The aforementioned skimpy outfits and gyration-centric dancing also attracted comments from men that were basically the equivalent of this video.
These are intentionally funny, but then there's also whatever Jeb! Bush did, which rightfully earned him plenty of mockery because c'mon dude.
The show was loaded with political messaging, from the presence of two Latinas (one an immigrant) to the unsubtle kids in cages imagery to J.Lo's Versace reversible American-Puerto Rican flag.
But the best halftime show tweet award has to go to Alex Rodriguez, who actually danced on the field amongst the common people while his partner performed. He was overflowing with pride, which made for a pretty entertaining selfie video.