'The Far Side' Is Finally Online, And It's As Brilliant As Ever
Get ready for a trip down memory lane.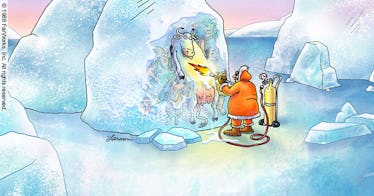 Gary Larson/FarWorks via Andrews McMeel Universal
Until today, if you wanted to enjoy the many pleasures of The Far Side, you had two options. You could invest in one of the myriad books and calendars featuring Gary Larson's classic single-panel comics, or you could seek them out in some of the shadier (read: copyright-infringing) corners of the internet.
Larson has steadfastly and infamously kept his creation offline even while a new generation of artists found an audience by publishing exclusively online, but those days are officially over. Twenty-five years after it left newspapers, thefarside.com is live.
So what changed? In a detailed letter, Larson names two major factors. The first is better digital security, a nice-to-have feature even though he joked that he's "sure the Russians could get inside this thing and start messing with my captions. (I know they're thinking about it!)"
The second is the advancement in graphics quality, which Larson says is the more important factor. "Man, did those old computer screens suck when it came to visual nuances," he writes. He feels confident that today's screens can property display his work.
Then, there's the toll that three-plus decades spent fighting with people on the internet has taken.
"Trying to exert some control over my cartoons has always been an uphill slog, and I've sometimes wondered if my absence from the web may have inadvertently fueled someone's belief my cartoons were up for grabs. They're not. But it's always been inherently awkward to chase down a Far Side–festooned website when the person behind it is often simply a fan."
While the complete archive isn't available online, there is a solid selection of offerings for fans to check out:
The Daily Dose will post fresh classic comics daily. Add it to your morning link rotation now.
Collections are thematically curated groups of comics, the first of which are "All in the Phylum" and "Hands Off My Bunsen Burner."
Scans of some of Larson's sketchbooks have been uploaded to the site, an extremely cool way to learn more about his creative process.
An online store, because printed calendars are still useful.
All in all, it's a nice way to take a trip down memory lane, as you probably haven't read The Far Side in a long time. The incompetent scientists and talking animals are just as hilarious as you remember them, and with the new website, they're ready to be discovered by a generation of digital natives.