Peter Jackson's New Beatles Doc Will Show the Entire Rooftop Concert
The rare performance was the last set the Beatles ever played.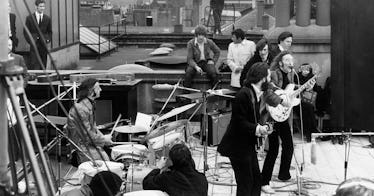 Getty
After their iconic appearance on The Ed Sullivan Show in 1964, the most famous Beatles performance has to be the nine takes of five songs performed live on the roof of Apple Corps on January 30, 1969. The unannounced concert was their first in over two years, and it would be the band's last public performance.
But despite its outsized place in Beatles history and lore, the complete 42-minute performance has never been released. Thankfully, Peter Jackson is about to change that, to the delight of Beatlemaniacs everywhere.
Jackson is putting together The Beatles: Get Back, a documentary assembled from 55 hours of footage shot by Michael Lindsay-Hogg for the Let It Be film and 140 hours of recordings from the Let It Be album sessions. Among the video Jackson is going to include: the complete rooftop performance.
"The footage captures interactions between the band members, reactions from fans and employees from nearby businesses, and comical attempts to stop the concert by two young London policemen responding to noise complaints," a press release detailing the project reads.
Get Back will also include "the only notable footage of the band at work in the studio." This is a huge deal, as the Beatles' most creative albums were largely recorded after the band stopped touring in 1966. It's very likely that the film will have footage of songs that have been heard but never seen before.
And even though it covers a dark period for the band — occurring as it did months before they disbanded — all indications are that Get Back will be more of a joyous celebration than a what-went-wrong dirge.
The press release says the film showcases the "warmth, camaraderie and humor" of this era. Paul McCartney says "[t]he friendship and love between us comes over [in the footage] and reminds me of what a crazily beautiful time we had." Ringo Starr concurs: "There was hours and hours of us just laughing and playing music, not at all like the version that came out. There was a lot of joy and I think Peter will show that. I think this version will be a lot more peace and loving, like we really were."
The Beatles: Get Back comes to theaters on September 4.