Robert Pattinson's Bat-Suit Revealed In Secretly Shot Photos and Videos
There's also a great look at the new Bat-Cycle tipping over.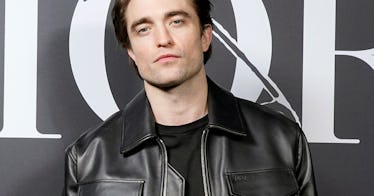 Less than a month after The Batman began filming, someone finally manager to take some illicit photographs (and footage!) of what Robert Pattinson is going to be wearing (and riding!) in his first turn as the Batman.
Matt Reeves and company are shooting in Scotland this week, and their schedule includes some scenes at the Glasgow Necropolis cemetery. It was there that the first full-body images of the new Bat-Suit and Bat-Cycle were captured to be shared with the world, though it does appear to be a stuntman and not Pattinson himself in the famous costume.
And that's a good thing, as footage posted to Twitter shows Batman speeding down a slick road in the cemetery in a city where it rains 167 days a year. The stuntman attempts to come to a stop and the Bat-cycle moves from side to side, sliding a few feet before somewhat comically tipping over.
But let's talk about that suit. We already knew what the lower half of the mask looked like thanks to the teaser video Reeves posted, but this is our first look at the ears, an integral part of any Bat-Suit. They're exceptionally slim and pointy, which is something of a contrast to the rest of the bulky suit.
It's dominated by thick shoulder pads, an angular chest plate with a wide Batman logo, and a fully stocked utility belt. It appears that more equipment is strapped to Batman's thighs, but the five silver objects strapped to each forearm are the most intriguing aspect of the suit. We imagine that at some point Pattinson as Batman is going to fire those at his enemies, hopefully during an exhilarating chase on the Bat-Cycle.
And speaking of the Bat-Cycle, it's a single-headlight, all-black model with an opaque windshield vaguely shaped like the mask. It looks cool, if not particularly groundbreaking, which is also how we'd describe the look as a whole.
Of course, some surreptitiously captured shots of a film set do not reveal what the actual film is going to feel like, and there's plenty Reeves can do to make his film feel different from every Batman movie that's come before.
The Batman will be released on June 25, 2021.
This article was originally published on