You're Going to Pay Way More for Thanksgiving This Year — But It's Not All Bad
Thanksgiving dinner is 14 percent more expensive than last year, but it's still historically cheap.
by Ethan Freedman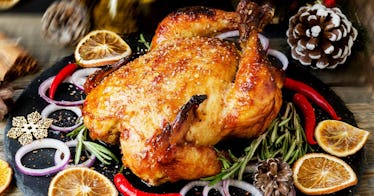 Ah, Thanksgiving. Buttery pumpkin pies, turkey glistening with gravy, Uncle Ned yelling at the Dallas Cowboys — and, apparently, grocery bills like you wouldn't believe.
Thanksgiving, though a lovely holiday, doesn't come cheap. Between the turkey, the pounds of potatoes, and splurging a little extra for real cranberries, the holiday is a price tag many are willing to fork over once a year for tradition. But this year, that tradition is going to be pricey — and far more pricey than it has been in the past few years.A standard Thanksgiving meal for a family of ten will cost around $53.31 this year, according to the Farm Bureau. That meal includes turkey, stuffing, sweet potatoes, rolls, butter, peas, cranberries, veggies, pumpkin pie, whipped cream, coffee, and milk.That's about 14 percent more than last year's all total of $46.90, when prices were really low, down 7 percent from the year previous. Costs of a Thanksgiving meal were so low largely because people weren't gathering — or having much smaller celebrations — for Thanksgiving. Now, people are gathering, the supply chain is dealing with massive amounts of pent-up demand, and short-term inflation is slightly hurting people's pockets.This lines up with current inflationary tendencies in the economy driving prices of consumer goods higher — plus potential supply chain issues plaguing the world. In our global network of capital, goods, and sweet potatoes, a turkey now costs about $23.99 for a 16-pound bird — about $1,50 per pound, up nearly a quarter (24 percent) over last year, per the Farm Bureau.
Rolls are also up by 15 percent in cost, and cranberries by 11 percent. Two frozen pie crusts are up in cost by 20 percent, pumpkin pie mix by 7 percent, whipped cream by 2 percent, whole milk by 7 percent, three pounds of sweet potatoes by 4 percent, etc, etc., etc. Basically, costs are up. Of course, this assessment just looks at a more traditional Thanksgiving meal, which misses many families' traditions. For instance, nowhere in this report is the price of bourbon central to many fancy pies and aperitifs. Vegans and vegetarians will likely have to do their own calculations, too — anyone know the most recent price of a full-size Tofurkey?All in all, however, prices are going up for plenty of things. If you're able to afford a full Thanksgiving meal for yourself, you might consider donating some supplies to a local food bank to help out another family near you who may not be able to do so — especially this year. And, if you're trying to save money for yourself, the Farm Bureau notes that if you wait long enough, you might be able to get a steeply discounted frozen turkey. In addition, it's always better to get your supplies locally, helping out neighborhood stores, farmers, and other food producers who live in your community.