Texas Lawmakers Are Making Sports, Life Awful For Trans Kids
Trans kids in Texas already have a hard time joining sports teams that match their gender identity already. But a new law would make it downright impossible.
by Ethan Freedman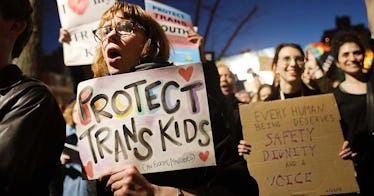 GETTY
In addition to passing one of the country's most restrictive anti-abortion laws, Texas has taken steps to deny rights and healthcare to another group of people this year: transgender kids. With proposed legislation aimed at school sports and gender-affirming medical care, state legislators and officials seem intent on making the Lone Star State a more difficult place to grow up trans.
The state intends to prevent kids from playing on sports teams that match their chosen gender identity via a new bill in the state legislature, according to The 19th. Currently, the law forces students to play on teams matching the gender on their birth certificate, The 19th reports. Transgender people can update their birth certificates, allowing them to play on their team of choice, the publication notes, but the new state law would take that option away, making it nearly impossible for kids to enjoy being, well, kids.
Governor Greg Abbott has made this bill a priority for the new legislative session and, if passed, Texas would join a growing list of states placing barriers on trans kids playing sports. Other states, such as Florida, West Virginia, and Tennessee, have already passed similar bills targeting trans kids' participation in sports, reports ABC News. North Carolina attempted to pass a bill like this earlier in the year but dropped it once they admitted they had no complaints about trans children playing sports.
Many proponents of these bills describe them as supporting women — The 19th notes that sponsors of the Texas bill have couched their support as "protecting female athletes." And the Florida bill only applies to trans girls wanting to play on girls' teams, not trans boys wanting to play on boys' teams, reports the Tampa Bay Times. In a similar vein, Governor DeSantis said of the bill on a Fox News appearance, "we're going to protect our girls."
These kinds of bills can make trans kids feel excluded and singled out. And many trans kids are already suffering from mental health issues that this kind of exclusion is likely to only exacerbate.
But in Texas, this bill is also just one proposed anti-trans action. Lawmakers have also introduced language for this upcoming legislative session that would define some gender-affirming care like hormone treatments as child abuse.
Bills similar to these were introduced in earlier sessions of the state legislature this year and failed to pass, reports the Texas Tribune, so it's hard to know whether or not they will become law in the state. But even though they didn't become law, the Tribune notes that even the existence of these proposals can lead to mental health struggles for transgender people, and vulnerable kids.
There are many ways that parents and others can support trans kids. But parents of trans kids may find that these kinds of bills make that support more difficult.