Head of Second Largest Teachers Union: School Should Open Full Time Again in the Fall
She also volunteered her members' help in convincing parents—disproportionately parents of color—to send their kids back to school.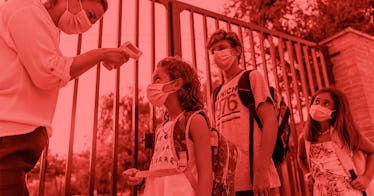 The leader of the second-largest teachers' union in the country will call for public schools to reopen, full-time and in-person when the next school year begins in the fall in a statement later today, of which media outlets have gotten advanced remarks.
Randi Weingarten, president of the 1.7-million-member American Federation of Teachers, will somewhat ironically make the call during a speech to be delivered virtually later today. It will come at a moment when only about half of the nation's schools are fully reopened.
"There is no doubt: Schools must be open. In-person. Five days a week," she will say while acknowledging that reopening is not risk-free but that those risks can be mitigated through personal practices like handwashing and structural changes like smaller class sizes (a pre-pandemic union priority) and holding some classes outside to ensure social distancing is possible.
Weingarten will also pledge $5 million to a public outreach campaign led by teachers hosting open houses and going door-to-door in their communities to build confidence in returning to school full-time. Black, Hispanic, and Asian families continue to opt out of in-person learning at higher rates than white families, so earning their trust will be crucial to any reopening effort.
Some local teachers' unions have argued that, because of this reticence, the focus should be on improving remote learning for the fall. Weingarten disagrees, though she will acknowledge that a great number of questions will need to be answered before schools can fully reopen safely.
For instance, vaccinations. Eighty-nine percent of AFT members are currently vaccinated. That's good, but will they need booster shots? And when will students reach that level of vaccination? As of this week, the Pfizer vaccine is authorized by the FDA for kids as young as 12, which will be welcome news to middle and high school teachers. But what about elementary school students? Do they need to be vaccinated too?
"There are all of these questions," Weingarten will say, "but these questions can't stop us from reopening fully."
This article was originally published on