First-Grade Teacher Told Her Class Santa Isn't Real and Parents Are Furious
She deserves a spot on the naughty list.
by Amanda Tarlton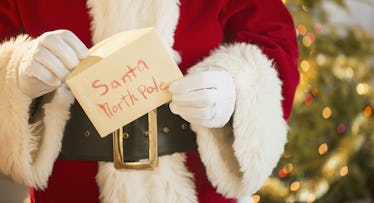 Getty Images
Last week, a New Jersey substitute teacher told a class of 22 first graders that Santa Claus isn't real. While teaching at Cedar Hill School in Montville on Thursday, the sub, known as "Ms. M," explained to the six-year-olds that Santa, along with his eight reindeer and elves, doesn't exist—and parents are outraged.
In a Facebook post shared later that night, mom Lisa Simek describes what happened: "She told them Santa isn't real and parents just buy presents and put them under their tree. She told them reindeer can't fly and elves are not real – elf on the shelf is just a pretend doll that your parents move around." Simek went on to say, "She told them magic does not exist. There is no such thing as magic anything. A grown woman tried to crush our six-year-old's spirit."
Following the incident, school administrators immediately sent a letter apologizing to parents. "As a father of four myself, I am truly aware of the sensitive nature of this announcement," wrote principal Michael Raj, promising that the substitute had been reprimanded for her "poor judgment in making this proclamation."
However, many parents claim that the damage has already been done. Like Maya Aboyoun, whose child attends Cedar Hill and who said, "The children began yelling that everything is real. My daughter is completely heartbroken!" Other parents are requesting that the substitute not be allowed to teach at the school in the future.
It's something that superintendent Dr. René Rovtar says the district is investigating. "I am troubled and disheartened by this incident," she stated. "The childhood wonder associated with all holidays and traditions is something I personally hold near and dear in my own heart."
This article was originally published on