Teacher Arrested for Dragging 4-Year-Old Student By Their Ankles
They got it all on video.
by Amanda Tarlton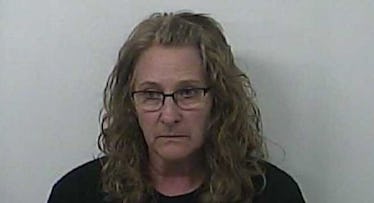 Trousdale County Sheriff's Office
A Tennessee elementary school teacher has been arrested and charged with child abuse after allegedly dragging a four-year-old student down the hallway by their ankles.
On Friday morning, Carla Haynes was caught on camera at Trousdale County Elementary carrying the child around the corner of her classroom before pushing them onto their back. The pre-K teacher then proceeded to grab the student around the ankles and drag them about 15 feet into her classroom.
According to Trousdale County Director of Schools Dr. Clint Satterfield, the school resource officer was watching the footage as it happened via cameras that had been installed at the school less than a year ago. Haynes, who has taught in the school system for eight years, was suspended indefinitely within 30 minutes of the horrifying incident.
"We apologize that this has happened, and this is not who we are as a school system," Satterfield told WKRN. Haynes, who has previously taught third and fifth grade, was charged on one count of child abuse with a $5,000 bond. The 54-year-old is set to appear in court on June 14.
A similar incident occurred in January when a New York teacher was arrested for dragging an autistic student through the halls. The teacher was charged with assault after the nine-year-old suffered injuries like a fractured wrist and severe bruising and swelling. His mom, Angel Nelson, told CNN that there was more than just physical damage—it was emotionally traumatizing for her son as well. "Teachers are supposed to stop the bullying," she said to the network, "not be the bullies."
Teacher-student abuse continues to be a difficult issue to address. GreatSchools.org explains, "With a bully teacher, fighting back, walking out of the class, or ignoring the teacher are hardly viable solutions and ones that will most likely get kids in even more trouble. Even telling another teacher or the principal gets tricky."
This article was originally published on