Target Won't Require Customers to Wear Masks Until August 1
Meanwhile, its competitors are already keeping unmasked shoppers out of the store.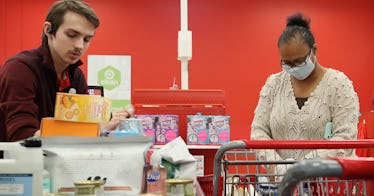 GETTY
Its biggest competitors are already requiring customers to wear masks, but Target stores across the country won't mandate face coverings until August 1. Meanwhile, cases of COVID-19 continue to spike in states around the country as more and more businesses are allowed to reopen.
Walmart and CVS stopped allowing maskless customers inside their stores on July 20. Grocery store chains like Publix, Kroger, Trader Joe's, and Albertsons are also instituting their own mask requirements this week.
Target, on the other hand, won't require customers to wear face coverings until August 1, a full 16 days after it announced its intention to. It's unclear what is causing this delay.
The new policy will build on Target's April 2 announcement that it would provide its employees with face masks at the beginning of each shift and "strongly encourage that they be worn while working." That "strongly encourage" is now "mandate," and the policy applies to anyone who comes into one of Target's 1,871 locations, not just employees.
President Trump has thus far declined to issue a nationwide mask mandate of his own, like due at least in part to a reticence to anger the members of his base who see mask mandates as infringements on their liberties. It's thus been left to mayors, governors, and now corporations to issue a patchwork of rules meant to limit the transmission of the coronavirus.
This article was originally published on