Target Will Give You a $20 Gift Card for Every $100 You Spend on Baby Gear
It's not just diapers (but you should definitely get some diapers).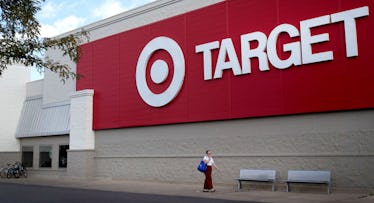 Getty
Target has a special offer for parents. Today and tomorrow (until 11:59 Pacific time) the store is offering a free $20 gift card when parents spend $100 on a selection of items categorized as "baby essentials."
The only catch is that you have to order the items with in-store pickup or Target Restock, a next-day delivery service that costs just $2.99. We actually think both options are more convenient than wondering around the red and white aisles of your local store.
But what, exactly, qualifies as "baby essentials?" Diapers of all kinds, to start. Disposable, reusable, overnight, swim: there's something for every situation your baby's butt might be in. And it's not like you're going to not need diapers any time soon. And if diapers are at the top of your shopping list, baby wipes and diaper rash treatments can't be far behind.
And those diapers aren't going to fill themselves, so Target is also including plenty for your kid to chow down on. That means baby formulas, pureed food, puffed snacks, snack bars, crackers, teething wafers, yogurt, and more are included in this special offer.
And there's also plenty to explore for those parents and babies with more specific needs. If you could use iron and zinc multivitamin drops, gas relief drops, nose spray, or cradle cap cleansing oil Target has you covered.
There's also plenty of stuff that even parents with older kids (or, gasp, non-parents) will find useful. Stuff like cotton swabs, hand sanitizer, laundry detergent, and cleaning spray. Lots of the items in these categories are great for sensitive skin and/or free of fragrances or dyes, and it's not just babies who appreciate that level of luxury.
Exactly 1,407 items are part of the offer, so we were only able to link to a smattering of them. Our suggestion? Check out the full list of included items, fill up your cart, and spend the $20 gift card on something fun for yourself.