The Surprising Reason Tamera Mowry Drank Her Twin Sister's Breast Milk
She says it was delicious.
by Amanda Tarlton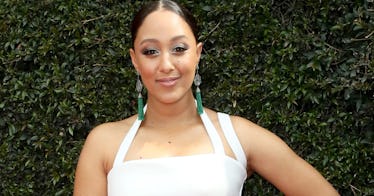 GETTY
Tia Mowry came up with an interesting cure when twin Tamera complained of being sick—the 40-year-old actress gave her twin her own breast milk to drink.
In a video posted to Instagram on February 20, Tia captured her sister's reaction to the beverage.
"Soooo, my sister is desperate for some healing. She's sicky poo and I sent her an article on how breast milk has healing properties and was okay with drinking my #breastmilk," the former Sister, Sister star wrote in the caption. "P.S., she's had some before and I mean, she's my twin. Here's what she had to say."
The clip shows Tamera, with a face filter, drinking Tia's breast milk. "Oh my gosh. Tia. This is amazing," Tamera says. "Your breast milk is the best milk I've ever tried in my life. Oh my god."
Tia is currently nursing nine-month-old daughter Cairo, who she gave birth to last year with husband Cory Hardrict.
And while her milk is great for her newborn, experts warn that it isn't necessarily healthy for adults. Explaining to CBS that breast milk can contain harmful bacteria and impurities, Dr. Sarah Steele of Queen Mary University of London said, "We want people informed about the risk because [breast milk] is not necessarily the superfood it claims to be."
She adds that the milk gets broken down differently in the digestive system of an adult than in a baby. So even if the milk is "pure," it still may have not have the healing benefits that some people, like Tia, believe it to have.
Tamera isn't the only celeb hopping on the breast milk bandwagon. Hilary Duff's Younger costar Nico Tortorella recently drank some of Duff's milk, saying in an Instagram story, "Oh my God! It is delicious! Can I have some more?"