Picky Kids Who Hate Meat? Taco Bell Just Created Veggie Mode
Parents of meat-hating kids, rejoice. Maybe.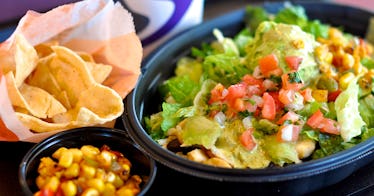 James/Flickr
Taco Bell is adding Veggie Mode to its in-store kiosks that will make it easier to browse the fast-food chain's many different meat-free menu items. It will make it even easier to avoid the chain's steak, beef, and chicken options. There will doubtlessly be many vegetarians who take advantage of this feature, as Taco Bell has long been one of the easier fast-food restaurants for them to dine at, but Veggie Mode looks to be useful for parents as well.
That's because one of the more common quirks of young, picky eaters is an aversion to meat. The somewhat liquidy, spicy nature of the meat at Taco Bell can be even tougher for them to swallow. Veggie Mode will allow them to bypass those menu items for those consisting solely of tortillas, beans, rice, veggies, cheese, potatoes, tomatoes, lettuce, guacamole and other vegetarian ingredients — flavors that picky eaters will likely find more palatable.
"We've been doing vegetarian for a long time, but that is not enough for us. People should be given more options than one plant-based choice," Missy Schaaphok, Taco Bell's global nutrition and sustainability manager, said in a press release. "With veggie mode, we are proud to make it even easier to order delicious plant-based options."
Taco Bell's vegetarian ingredients are certified by the American Vegetarian Association as lacto-ovo, which allows for dairy and eggs but not animal byproducts. Unfortunately, cross-contamination can occur behind the counter, so it's possible that your kids' veggie meal does come into contact with non-vegetarian ingredients. But unless they have an amazingly discerning palette, they probably won't notice.
Beyond the recent AVA certification of its potatoes, the actual menu at Taco Bell hasn't changed. The chain is working on a plant-based meat option a la Burger King's Impossible Burger and KFC's Beyond nuggets. You can be sure that once it's available in stores, you'll be able to use Veggie Mode to order it, assuming your picky kid is down with the plant-based meat revolution.
Veggie Mode launches on March 12 at Taco Bell locations with self-service ordering kiosks.