This Couple Was Trying for Their Fourth Kid But Ended Up With 9 Instead
Not at all what they had planned.
by Amanda Tarlton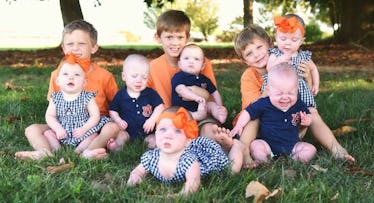 God's Divine Nine-Sweet Home Sextuplets/Facebook
Imagine Courtney and Eric Waldrop's surprise when they learned that they weren't expecting one child, but six. The couple, who now star in their own docuseries on TLC, welcomed sextuplets in December 2017, turning their family of five into 11.
"If you would have asked me the way I felt when I found out we were having six babies, I guess I just thought it was going to be an impossible situation," Eric told TODAY. "I'm not saying it's not hard, but you just kind of adapt and make it work. It's the new normal, how crazy it is, and I just jump right in after I come home from work and before you know it, it's midnight."
The Sweet Home Sextuplets stars, who have been together for 22 years, had been trying for their fourth child. At the time, they had son Saylor, nine, and twins Wales and Bridge, five.
Approximately 30 weeks later at Huntsville Hospital in Alabama, Courtney gave birth to three boys and three girls (Tag, Layke, Blue, Rivers, Rawlings and Rayne), each weighing between two and three pounds.
And juggling six newborns hasn't been easy. "We love every second of it but it is something, having to feed around the clock," Courtney said in the interview with TODAY, adding that she feels "extremely blessed" that the babies started sleeping through the night at four months old. "[Eric and I] are getting a bit of sleep and we are able to survive off that."
Multiple pregnancies like Courtney's are not only high-risk, but they're also incredibly rare. According to the Centers for Disease Control and Prevention, of the four million births in the U.S. in 2015, only 24 were quintuplets or higher.
That's why the couple decided to film their show, Eric told TODAY. "We want to show the world what God has done for us, and how much we've been blessed by this situation."
Watch the trailer for the series below.
This article was originally published on