Super Nintendo World Is Coming. Here's What to Expect
Finally, you can visit the Mushroom Kingdom without taking mushrooms.
by Joel Cunningham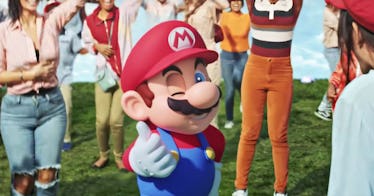 Let's-a go! Having won the hearts (and galleons) of muggles everywhere with the Wizarding World of Harry Potter, Universal Studios has launched another blue shell in its bid for total theme park domination, announcing plans to open Super Nintendo World lands at its parks in Hollywood and Orlando over the next several years.
The first Super Nintendo World will open in Osaka, Japan this summer, with California and Florida to follow in 2021 and 2023.
Specifics on the U.S. parks are scarce, but if the details on attractions and experiences at the Japanese version are any indication, there will be plenty for Mario maniacs to get excited about.
Heavy Mario theming: While Nintendo isn't calling the place "Mario World," it seems the name would fit. The Japanese park is built around the Mushroom Kingdom, much as The Wizarding World hangs on detailed rendering of Diagon Alley. Expect a land littered with warp pipes, floating question blocks, chomping Piranha Plants, and recreations of Peach's Castle and Bowser's Fortress.
Enter the game: Attendees will be able to purchase one of six Mario-themed "Power Up Bands" that will turn wandering the park into an interactive experience. Pound question blocks, collect coins and take part in "Key Challenges" allowing visitors who have located enough virtual keys to team up for boss battles. All of this interactive content will be tracked in a downloadable app and uploadable to a Nintendo Switch, indicating the adventure might continue outside the park.
Real-Life Mario Kart: No longer merely the stuff of viral videos or your road rage fantasies, Super Nintendo World promises to utilize "cutting-edge technology" to put you in the driver's seat in a high-speed attraction based on the addictive racing game.
Yoshi's Adventures: If you always dreamed of exploring the world from the back of a dinosaur with a weird-ass tongue, this family-friendly ride will reportedly allow visitors to climb into Yoshi's saddle and high-tail it through the Mushroom Kingdom. Gulp!
Snap a selfie with Peach: It wouldn't be a theme park without costumed cast members wandering about. Nintendo has confirmed the Japanese park will feature visits from like likes of Toad, so it's a safe bet you'll be able to collect autographs from your favorite Mario all-stars in the U.S., too.