Biden Will Forgive Another $3 Billion+ in Student Debt. Did you Make the Cut?
More than 500,000 borrowers could benefit from the reforms.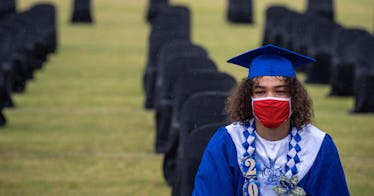 GETTY
In its 14-year history, the Public Service Loan Forgiveness program has done a pretty terrible job of actually forgiving the student loans of graduates working in public service, a sorry state of affairs that the Biden administration is now acting to fix. Here's what you need to know about the program and the just-announced reforms to it.
How is Public Service Loan Forgiveness supposed to work?
If you worked as a teacher, nurse, government worker, or another role in public service for ten years; and have made regular monthly loan payments 120 times; the government will forgive the remaining balance of your student loans.
Unfortunately, the rules of the program were written strictly and confusingly and there has not been much of an effort to educate borrowers on how to ensure they're following those rules.
The end result? About a decade into the program, when the first group of applicants was theoretically eligible for forgiveness, 99 percent of them were denied. The Biden administration has overhauled the program.
What is the Biden Administration doing?
The Department of Education is loosening the strict rules that govern—and gatekeep—PSLF and taking proactive steps to ensure that more people benefit without having to jump through an impossible series of hoops.
The department is extending a waiver that will ensure all payments by student borrowers count toward PSLF, even those that aren't toward the type of loan, Direct Loans, that the program typically exclusively includes. It also automatically credits members of the military with employment in public service without an application.
And finally, the DOE promised to review applications denied for errors and provide an opportunity for those whose applications have been denied to have those decisions reconsidered.
What will the impact of these reforms be?
An estimated 22,000 borrowers will immediately become eligible for $1.74 billion in forgiveness, according to the department. If they can prove they were employed in public service, another 27,000 borrowers could qualify for an additional $2.82 billion. And 550,000 more borrowers will also benefit, receiving an average of two years of progress toward the ten years that are necessary to qualify for the program.
Is the Biden administration doing enough?
This positive action on the student debt crisis is mostly a reminder of its refusal to tackle the student debt crisis in a way that will meaningfully change the status quo.
Americans hold $1.73 trillion in student debt, loans that prevent them from spending money in the economy, saving for retirement, paying for their own kids' education, and a host of other practical matters.
Student debt also drives despair, as high tuition, a dearth of well-paying jobs even for the educated, and interest rates mean that millions of Americans make little to no progress in actually paying down their principal debt year to year.
Including the immediate relief that's coming through PSLF reform, the Biden administration says it's forgiven $11.5 billion for over 580,000 borrowers in specific groups. That's 0.664 percent of the $1.73 trillion total; by comparison, student debt rose by three percent between the second quarters of 2021 and 2022 even with the repayment and interest pause prompted by the pandemic.
Democrats from AOC to Chuck Schumer have called on Biden to act aggressively, deploying his power to forgive student debt generously instead of sparingly. If he continues to refuse, the student debt crisis will persist and he will deserve a large share of the blame for the pain and suffering it causes.