'Stranger Things' Actor Is Hosting the Meanest Prank Show Ever
People were not shy in sharing their opinions after the 16-year-old actor shared the news on Twitter.
by Catherine Santino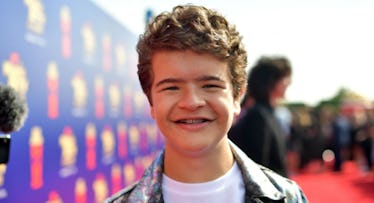 Getty Images
We love a good prank show, but it's certainly possible to take things too far. Sadly, it looks like Stranger Things star Gaten Matarazzo has done just that. Last week, Netflix announced that the 16-year-old actor will host a new series Prank Encounters, and honestly, it sounds pretty mean.
In a press release, Prank Encounters is described as a hidden-camera prank show in which people will be tricked into thinking they've been hired for a job. "Each episode of this terrifying and hilarious prank show takes two complete strangers who each think they're starting their first day at a new job," the release reads. "It's business as usual until their paths collide and these part-time jobs turn into full-time nightmares."
We don't now exactly what these "full-time nightmares" will entail, but the description has been enough to set people off. After Matarazzo announced the show on Twitter, many are even urging the actor to reconsider.
The optics alone are pretty cringe-worthy, but the premise is also just plain cruel. This kind of a prank could be devastating (both financially and emotionally) to contestants who think they've landed a job.
"This is so messed up. You clearly have no idea what job seekers go through to find work and how unemployment affects people and their families," one Twitter user wrote in a reply to Matarazzo. "Do the right thing and pull the plug on this horrible idea of a show."
Some fans are holding out hope that the show is either not as mean-spirited as it seems or Matarazzo steps down from the project. Either way, this isn't a great look for Netflix.
Yikes.
This article was originally published on