Steph Curry Speaks on How He Is Raising His Daughters to Be Empowered
"I want our girls to grow up knowing that there are no boundaries that can be placed on their futures, period."
by Raz Robinson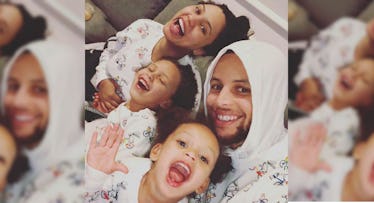 Instagram: Ayesha Curry
When NBA superstar Steph Curry isn't embarrassing your favorite basketball player or effortlessly winning another NBA championship, he's actually quite the family man. Curry, now a father of three, just hosted his first annual basketball camp for girls and as his two eldest daughters get older, the idea of raising them to feel like empowered women has been on his mind. That is why he decided to write a powerful open letter for The Players Tribune, where he broke down exactly what he and his wife are doing to ensure their daughters have the confidence to believe in themselves and chase their dreams.
Curry began by talking about his own wife and mother and how being around the two of them has made him the type of man who is 100 percent aware of a woman's ability to be independently successful in business and in life. But as his daughter Riley begins to express interest in cooking and basketball, two male-dominated fields, he expressed some fear that she might be cast aside because she's a woman.
"I want our girls to grow up knowing that there are no boundaries that can be placed on their futures, period. I want them to grow up in a world where their gender does not feel like a rulebook for what they should think, or be, or do," Curry wrote. "And I want them to grow up believing that they can dream big, and strive for careers where they'll be treated fairly."
In the spirit of using his status as a world-famous basketball player to help give young girls an equal shot at greatness, he invited 200 of them to a special camp where they could do more than just work on their basketball skills. Curry also invited world famous businesswomen and athletes to give the girls insights about how to make it in fields that have historically been dominated by men. As he said, "You're not world class if you're not actively about inclusion."
"I think it was also the sort of thing that can help to shift people's perspectives. So that when someone sees an NBA player is hosting a camp, now, you know — maybe they won't automatically assume it's for boys." Curry wrote. "Eventually we can get to a place where the women's game, it isn't 'women's basketball.' It's just basketball. Played by women, and celebrated by everyone."
Even though it was the presence of women in his life, and more specifically, becoming a father to two daughters that got Curry thinking about all of this, he doesn't want it to stop there. For him, it's an everyday struggle that we all need to spend time dealing with and changing.
"I think it's important that we all come together to figure out how we can make that possible, as soon as possible. Not just as "fathers of daughters," or for those sorts of reasons. And not just on Women's Equality Day. Every day — that's when we need to be working to close the pay gap in this country," he wrote. "Because every day is when the pay gap is affecting women. And every day is when the pay gap is sending the wrong message to women about who they are, and how they're valued, and what they can or cannot become."