Here's How Much Money Stay-at-Home Parents Should Be Making
by Amanda Tarlton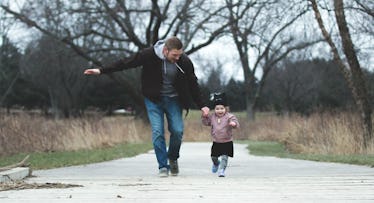 Pexels
Moms and dads who stay home to raise their kids don't earn a paycheck—but if they did, it would likely be six figures. According to a new survey by Salary.com, the average stay-at-home parent would earn an annual salary of $162,581 in 2018.
Determining that the average "work week" for a stay-at-home mom or dad is 96 hours, the website first asked thousands of parents how much time per week they spend on different tasks, from cleaning the house to helping their kids with homework.
Researchers then calculated the total sum using the site's Salary Wizard tool. Based on the responses from real moms and dads, they aggregated the salaries of 34 different jobs that stay-at-home parents take on, including janitor, school teacher, event planner, staff nurse, dietitian, laundry manager, and even CEO.
"Putting a price tag on a priceless job is hard to do, but we gave it a shot anyway," the report reads. "We would like to recognize both professional and stay-at-home Moms on their unwavering dedication to their families and other responsibilities. Your work ethic does not go unnoticed or unappreciated."
The 2018 figure marks an increase of about $5,000 from the previous year. According to Salary.com, the annual paycheck for stay-at-home parents has been steadily rising over the last few years, up from $143,102 in 2016 and $157,705 in 2017.
And that's not the only thing that's on the rise. In September 2018, a Pew Research Center study found that of the 11 million parents who chose to stay home with their kids, seven percent of those were fathers, up from four percent in 1989.
Millennial parents are also more likely to take the stay-at-home plunge, with 21 percent of millennial parents opting to stay home vs. the 17 percent of Gen X parents who did when they were the same age.