School District Leaders Are Ignoring Mask Mandate Bans. Good.
For these renegades, the choice between following the law and protecting students is clear.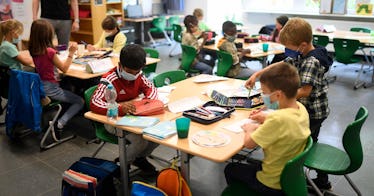 GETTY
Eight states have instituted bans on face mask mandates in public places, denying local officials the chance to implement a basic proven public health intervention even as the highly contagious Delta variant fills ICU beds in hospitals around the country.
These bans are particularly dangerous in schools, as vaccines are unavailable for kids under 12, and vaccination rates remain stubbornly low for 13-18 year-olds. Stuck in an untenable situation, school district leaders around the country are instituting face mask mandates in defiance of state law, admirably choosing to protect the lives of their students and employees.
The two largest states with two of the most vocal anti-mask governors are Texas and Florida. They're also home to much of the mask mandate ban disobedience. In Florida, school superintendents in Leon (which includes Tallahassee, the state capital), Alachua, and Palm Beach Counties have taken similar stands despite threats from Gov. Ron DeSantis to withhold the salaries of superintendents and school board members who defy the mandated ban.
In Florida alone, some 32 kids have been hospitalized per day in the past week; cases in Florida make up a significant percentage of the country's average. Meanwhile, kids make up an increasing share of cases of COVID-19 nationwide — as they are by design unvaccinated — accounting for, in the week of July 22-29, almost 20 percent of cases total. That number of weekly cases in kids is only growing. Some experts have signaled concern about the rising number of hospitalized children, as well.
School districts in Austin, Dallas, and Houston—three of the five largest in Texas—have all instituted mask mandates ahead of the beginning of the school year.
Governor Greg Abbott has not backed down on the state's mask mandate even as he asks for help—in the form of medical personnel—from out-of-state, as the healthcare system there is pushed to the brink with people suffering from and hospitalized by COVID-19. Medical tents are going up outside of Houston hospitals and many patients are being transferred out of the city to make room for COVID-19 patients. Abbott has also asked people to re-schedule and postpone their non-emergency surgeries. But still, the masks must stay off.
No such threat has come from Asa Hutchinson, the governor of Arkansas who recently, and publicly said he regretted signing a mask mandate ban in that state. It's possible that the governor's change of heart made it easier for school districts in Little Rock and Marion Counties to institute their own mask mandates, though some state legislators will likely do everything in their power to force them to reverse course, regardless of what Governor Hutchinson thinks.
As the Delta variant continues to worsen the COVID-19 situation in these states and school reopenings get even closer, it seems likely that other school district leaders will buck their states' dangerous mask mandate bans. The question then becomes how vigorously these governors and legislatures will fight back—and whether judges will allow the bans to stand even as they put children's lives at risk.