Starbucks Will Start Delivery Service Soon. Here's When and Where
An even more convenient cup of coffee.
by Amanda Tarlton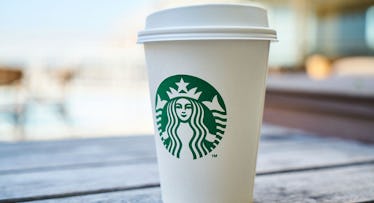 Pixabay
You'll soon be able to get your Starbucks order delivered right to your door. The coffee company announced last Thursday that it's partnering with Uber Eats to bring delivery services to more than 2,000 stores across the United States in 2019.
According to company executives at the 2018 investor conference in New York City, they will be expanding delivery to about one-quarter of their U.S. stores by the end of the second quarter (which would be March, since the Starbucks fiscal year starts October 1).
Starbucks, which has been testing delivery through a partnership with Alibaba in China, first brought the service to the U.S. earlier this fall, with "Starbucks Delivers." The pilot program, launched with Uber Eats, is currently running in 112 stores in Miami and the surrounding South Florida region.
Here's how delivery will work: Customers located near one of the selected stores will be able to place their order through either the Starbucks or Uber Eats app. Then, the drinks or treats will be delivered directly to the customer—for a small delivery fee, of course.
"The option to order Starbucks will only show up on the app if the store is close enough to deliver the coffee hot," Miami.com explains, adding that, "In their beta testing, Uber Eats says the most popular order has been the caramel frappuccino."
The website also provides details on pricing. "A tall caramel frapuccino from Starbucks costs $5.25 with a $2.49 booking fee and tax for a total of $8.11 before tip."
Following last week's big announcement, however, Starbucks has yet to reveal which cities or stores will be chosen to offer delivery next year.
This article was originally published on