Starbucks Baristas Will Now Get Parental (and Paternity) Leave
The company will now give all of its workers at least some form of paid parental leave.
by Raz Robinson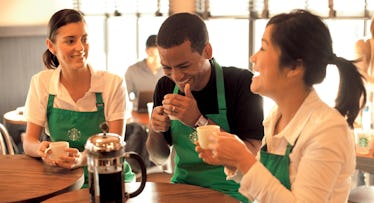 Today, the Starbucks Corporation announced that it would take advantage of recent US corporate tax cuts and add $250 million worth of expanded benefits, increased pay, health benefits, greater stock in the company, and increased parental leave for its employees.
While the new corporate tax cuts may have helped along the effort to expand the companies parental leave benefits, Kevin Johnson, Starbucks' Chief Executive, emphasized to CNBC that investing in employees has always been a part of the company's strategy and that the new tax cuts simply made them "able to accelerate some significant partner investments."
Before the tax cuts, Starbucks, while generally heralded for generosity towards their workers and emphasis on social responsibility, had come under fire for not addressing the fact that non-birth mothers and fathers, as well as other low-wage workers, have gotten the short end of the stick when it comes specifically to paternity leave. This isn't a trend localized to Starbucks either. Only 13 percent of US private sector workers are offered any paid family leave.
As it stands right now, salaried mothers who work at Starbucks receive 18 weeks of parental leave, while the other parent, if salaried, receives only 12. Hourly workers on the other hand, regardless of their status as the birth mother or other parent, only receive six weeks. Prior to the tax cuts, fathers and adoptive parents working in Starbucks stores received no paid-parental leave whatsoever. This put undue stress on LGBTQ parents, many of whom adopt.
Now, non-birth parents and fathers will receive six weeks of paid parental leave. While the tax cuts will certainly help fathers and non-birth parents at Starbucks, the United States is still the only developed country with no policy mandating paid parental leave.
Despite previous shortcomings, when compared to the other 20 largest employers in the US, Starbucks is still a marker for benefits, ranking second in terms of parental leave offered to workers — outdone only by IBM who offers birth mothers, salaried or not, 20 weeks of paid leave. Of those same 20 employers, only 13 offered more than the six weeks of paid parental leave often covered by short-term disability. Only eight extended that same kind of offer to mothers who were paid hourly.
Starbucks has yet to announce the exact dollar amount tied to the new corporate tax cut but is expected to do so during an earnings call on Thursday.