Spongebob Is About to Become Nickelodeon's Marvel Universe Whether We Like it Or Not
Stephen Hillenburg hated the idea of Spongebob spinoffs. So how should fans feel about 'Kamp Koral' now that he's gone?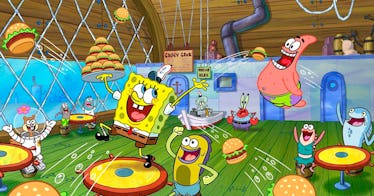 Nickelodeon
Spongebob Squarepants the TV show has inspired a Broadway musical, two films, and enough merchandise to cover Bikini Bottom. But until the June announcement of Kamp Koral, a spinoff series about a young Spongebob's adventures at camp, there was only one Spongebob television show.
The reason for that is simple: creator Stephen Hillenburg did not want spinoffs. We know this because an enterprising Redditor, hearing rumors that Hillenburg was anti-spinoff put out a call for evidence that the influential animator, who sadly died last year, would not be on board with Kamp Koral. Reddit did not disappoint.
There's this 2009 interview with Television Business International in which Hillenburg was asked about spinoffs featuring other characters.
"The show is about SpongeBob, he's the core element, and it's about how he relates to the other characters. Patrick by himself might be a bit too much. So I don't see any spin-offs." Hillenburg went on to say that he didn't even want to do another movie. (The third Spongebob film premieres next May).
Hillenburg's contemporaries back this up.
Vincent Waller, a former storyboard artist and creative director and current showrunner, addressed a fan's question about crossovers all the way back in 2017.
Paul Tibbitt, who worked on the show for 18 years, 11 of them as showrunner, was even blunter on Twitter when he heard news of Kamp Koral.
Tibbitt was reiterating a point he'd made in a 2018 story for Longreads marking the 20th anniversary of the show.
"In the animation business, you know, there always used to be the sort of joke. When you run out of ideas, you just do Muppet Babies. Steve [Hillenburg] would always say to me, 'You know, one of these days, they're going to want to make SpongeBob Babies. That's when I'm out of here.'"
But despite Hillenburg's clear preference that Spongebob not be spun off, Kamp Koral is coming. Nickelodeon owns the show and is eager to wring every last cent out of it.
In that same Longreads story, Nick president Brian Robbins called Spongebob Squarepants "our Marvel universe," and promised spin-off shows, of which Kamp Koral is merely the first one.
So how should fans feel? On the one hand, it's a shame that Hillenburg's life's work is going in a direction he clearly wasn't a fan of. On the other, the chance to further explore the world he created is not one they'll likely be able to resist.