We're Living in the Future 'Space Jam' Predicted
If only Michael Jordan and Bill Murray could save us from the coronavirus.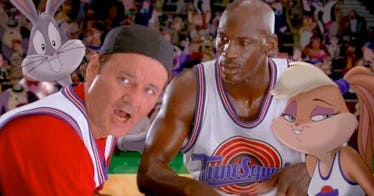 Warner Bros.
A mysterious illness forcing an early end to the NBA season is the situation we find ourselves in thanks to the incredible hubris of Utah Jazz center Rudy Gobert. It's also eerily like a similar situation faced in the 1996 classic Space Jam, because we truly are living in the most bizarre timeline possible.
In the movie, five NBA players — Charles Barkley, Shawn Bradley, Patrick Ewing, Larry Johnson, and Muggsy Bogues — are robbed of their talents by a gang of aliens who need to win a basketball game against the Looney Tunes in order to take them to their home planet and turn them into an amusement park attraction. (If that sounds like an absolutely bonkers premise for a film, that's because it is.)
The players can't figure out what's happening to them; no amount of psychoanalysis, medical testing, prayer, or practice makes them any better than the worst guy playing on Sunday afternoon at the Y. A panic ensues, and the NBA, fearful that the sickness could be contagious, suspends its season.
Back in the real world, the NBA certainly knows more about what's causing COVID-19 than the fictional league knew about what was allowing Charles Barkley to give up steals to high schoolers in a pickup game. Unfortunately, it is equally unprepared to stage professional basketball games while the illness continues to spread.
And at this point, the movie isn't all that helpful. We can't recruit Michael Jordan, Bill Murray, and Wayne Knight to unite with a team of cartoons to defeat the Monstars in a basketball game, causing them to give the NBAers their talents back. It's too bad, as that would be exceedingly cool.
The resolution to the real-life pandemic that shuttered the NBA is much murkier. Its hiatus will last at least 30 days, and play will resume "when it becomes safe for all concerned." What that means and when that will happen is still a mystery.
But hey, it could be worse: Space Jamavailable to stream on Netflix could not be .
This article was originally published on