South Carolina Is Trying to Pass A (Very Stupid) 'Pull Up Your Pants' Bill
The bill is now making its way through the state judiciary committee.
by Raz Robinson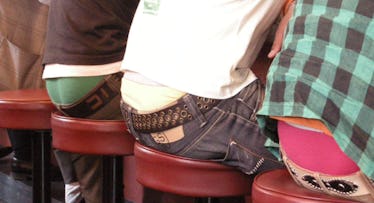 Wiki Commons
Three South Carolina lawmakers have just suggested a bill that would effectively ban wearing saggy pants throughout the state. The law would punish anyone wearing their pants"three inches below the crest of his ileum."
According to the new bill, f you're caught wearing baggy pants, you'll face a $25 fine for the first offense; $50 or three hours of community service for the second. Fines increase from there. If you're caught you won't face any jail time or be yanked out of school.
The bill was put forward by Rep. Jimmy C. Bales, Rep. Richard Martin, and Rep. Russell L. Ott, all three of whom are white. Support for it crosses both racial and partisan boundaries, however. Reps. Robert Brown and Wendell Gilliard from Charleston County, both of whom are black men, have agreed to co-sponsor the bill.
"We have to lead by example," said Gillard in an interview with WCIV. "The pants now are being worn below the knees."
Besides the fact that drafting a bill against sagging pants is the literal embodiment of a poisonous respectability politic, research suggests that there's a clear advantage to pulling up pants for white kids who benefit from white privilege and middle-class status, and not black kids who have zero 'black privilege' and may or may not come from middle-class households.
In a study published in the Journal of Consumer Research, marketing Professor David Crockett found that one of the ways black people will combat anti-black stigma is by simply avoiding things that represent it. Saggy pants is without question one of these things. The study found that in the case of someone like Barack Obama, avoiding cultural items that fuel anti-black stigma is a highly effective tactic.
Some study participants similarly claimed that avoiding such cultural items helped them to "fit in." Many others found that things like moving away from black people and into predominantly white neighborhoods "did not help them or their children fit in with white middle-class peers." Participants said they still felt that they weren't "granted the status that presumably comes with middle-class occupations, accomplishments, and households."
Despite the proposal in South Carolina being new, anti-sagging laws aren't. For instance, Jasper County, South Carolina has prohibited the style since 2008 and the The Timmonsville City Council approved a similar ordinance in 2016. As Salon points out, similar legislation was tried in Florida, Mississippi, and Louisiana as well.
If it's passed, it's hard to say how the law will play out. But saggy pants is a drop in the ocean compared to, say, gun violence and educational inequality that ravage this country every day. The challenges black people face in America will never be undercut by such superficial things as pulling their pants up.
This article was originally published on