Pixar's 'Soul' Isn't a Sequel, But It Looks Like a Natural Successor to 'Inside Out'
The studio shows it still isn't afraid of tackling the big questions.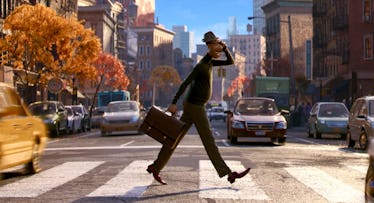 Walt Disney Studios
The best Pixar movies have always felt like what children might imagine the answers are to questions only children would ask. What happens to toys when kids aren't in the room? Where do dreams come from? What would happen to robots without humans?
Inside Out is one of the best Pixar films because the question it asks—why do we feel the way that we feel?—is profound and the answer it provides is brilliantly conceived and executed. The elaborate world populated with five anthropomorphized emotions within the inner world of one girl is at once both completely farfetched and utterly relatable.
What we know about the studio's next effort, Soul, suggests that its picking up right where Inside Out left off. The two films share a director and co-writer in Pete Docter, but instead of describing emotions Soul describes, well, souls.
The film is about Joe Gardner, a middle school band teacher who scores a gig at the best jazz club in a town that looks like New York. Unfortunately, he falls down an open manhole and into The Great Before, a sort of staging ground for new souls, the place where they get their personalities, quirks, and interests before going to Earth.
There, Joe meets 22, a soul who doesn't understand the appeal of the human experience. Adventures ensue, and if past is prologue, some profound truths are revealed in a way that's understandable for kids and entertaining to adults.
Soul won't hit theaters until June 19, so we'll have to wait a while to see if its premise, vocal performances, and animation combine to pack the same emotional wallop Inside Out did. But with a proven director, talented voice cast (Jami Foxx and Tina Fey star) and Pixar's trademark animated style, we're definitely feling optimistic.
This article was originally published on