'Sofia the First' Actress Says Goodbye In the Best Way Possible
A heartfelt Instagram post ended one of the most popular children's characters in recent memory.
by Alicia Kort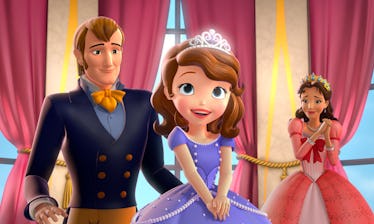 Disney Junior
Since 2012, Princess Sofia has been amusing and empowering young viewers across the globe, but sadly the long-running Disney Junior series has come to an end. Modern Family actress Ariel Winter voiced the titular character for nearly seven years. Winter took to Instagram to say goodbye to the series nearly a week after special Forever Royal aired, which served as the show's finale.
In her Instagram post, Ariel Winter expressed her sorrow that Sofia the First had ended.
"For the past 7 or so years, I have been so lucky to play Princess Sofia, as well as work with the amazing team that made this project as special as it is," Winter wrote. "Sofia is an incredibly strong, intelligent, kind and spunky young girl who is never afraid to take on any and all challenges that are thrown at her. She is a character that I am so proud of considering I have young nieces, nephews and god children who are influenced by the characters they idolize on the tv. It has been an absolutely honor to get to being her character to life over the 4 seasons and multiple specials we were allowed to make."
Sofia the First was a huge success for Disney Junior when it premiered in November 2012. Its premiere special Once Upon a Princess got 5.2 million views and became Disney's top cable telecast at the time. Sofia was introduced as a peasant girl who suddenly becomes a princess when her mother, Miranda, marries King Roland II. She suddenly finds herself living in the Enchancia Castle with two older step-siblings, adjusting to life as royalty. With a little help from some magic and her animal friends, Sofia taught kids about honesty, bravery and kindness.