'Justice League' Cast Is Shooting New Scenes for the Snyder Cut. Yes. Really.
Ben Affleck, Gal Gadot, and Ray Fisher will reprise their respective roles.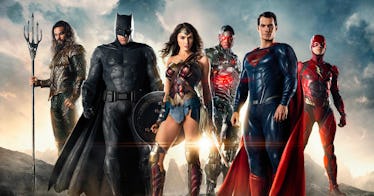 DC/WarnerBros
Update: Despite earlier reports to the contrary, Henry Cavill confirmed to Collider that he is not shooting any new footage for the Snyder Cut. Original story below.
The fan-led campaign to "Release the Snyder Cut" made it sound like a finished cut of Justice League was somewhere out there, perhaps a set of film reels locked away in a safe. That wasn't the case, of course. Replacement director Joss Whedon rewrote and reshot much of the film, and many of the scenes Snyder had planned on capturing went unfilmed. Whedon's finished product proved to be a disappointment to fans, critics, and studio executives alike.
So to realize his version of the film — now a limited series for HBO Max — Snyder is reuniting four of the film's stars to shoot brand-new footage nearly three-and-a-half years after a personal tragedy forced him to leave the production in the first place. The Hollywood Reporter reports that Ben Affleck, Henry Cavill, Gal Gadot, and Ray Fisher will reprise their respective roles as Batman, Superman, Wonder Woman, and Cyborg for a week-or-so-long shoot in October.
Alas, there is no indication that Ryan Reynolds's name will appear on the call sheet. More seriously, it appears that, for now, Jason Momoa and Ezra Miller won't need to reprise their roles as Aquaman and the Flash, respectively.
A trailer for the Snyder cut released a month ago didn't contain any new footage, and it's now clear that was only because it hasn't been shot yet. And while it's a highly unusual step to take, nothing about this situation is usual.
After Whedon came on board, he engaged in "unprofessional" behavior, according to Fisher in accusations currently under investigation by the studio. Then there's Affleck, who publicly retired from the role of Batman, agreeing to come back to it for the second time in less than two years, much to the delight of the #Batfleck crowd.
Fans should be pleased that, despite the unorthodox situation, Snyder and his actors are doing everything they can to make the Snyder cut live up to expectations. Because the only thing worse than fans being stuck with the Joss Whedon Justice League forever would be Snyder's version of the story underwhelming due to a lack of effort.