Here's What the Shanghai Disneyland Reopening Looked Like
Spoiler: It involved masks and social distancing.
by Amanda Tarlton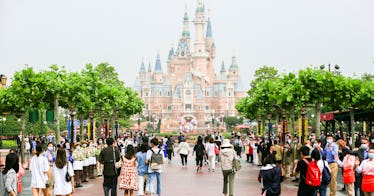 The first of Disney's six international resorts has finally reopened its gates after being closed for over three months due to the coronavirus (COVID-19) pandemic. On May 11, Shanghai Disneyland welcomed visitors to the park with all-new requirements on everything from social distancing to sanitation.
"We have a very dedicated team of custodial cleaners that we've increased the number of those throughout the park that are constantly wiping down all the surfaces," Andrew Bolstein, SVP of Operations for Shanghai Disney Resort, told CNN. "We'll be able to strike that right balance between the safety and health and confident side, and then the magic that we're able to deliver every day."
According to a Disney press release, the majority of the park's rides, shows, and restaurants are open. However, interactive kids' zones and live indoor theater shows have been shut down for the time being and there will be no parades or fireworks, instead opting for a nightly light show.
To get into the park, visitors must reserve an entry time and date in advance. And once they arrive at their arranged time, all guests are required to wear a mask, undergo temperature screening, and show proof of good health with a Green Health QR Code on their phone.
And while the first few days of reopening have already sold out, the crowds are nothing like the millions that attended Shanghai Disneyland's original grand opening back in 2016. The park has capped it to 20% capacity (less than the Chinese government's recommended 30% capacity), which equals about 16,000 people per day.
Even with fewer guests in the park, Disney has also put plenty of measures in place to encourage social distancing. Not only are guests asked to sit a distance apart on rides and to obey markers that have been added to line queues, but they're also asked not to hug or high-five characters and to "avoid close interactions."
Despite the changes, however, guests who attended the grand reopening are excited for what's to come—and for what has served as a bright spot in a trying and stressful time. "For us fans, it's very meaningful to be here on the first day of its reopening, and to be able to experience its reopening," one visitor, Kay Yu, told CNBC. "It feels like a magical day."
As for when the rest of the Disney parks will reopen? No word yet but Bolstein is hopeful that Shanghai's reopening could serve as a model for the other parks.