Sesame Street Is Reopening This Month: Here's What That Means
The world of Sesame Street is starting to open up again
by Isabella Bridie DeLeo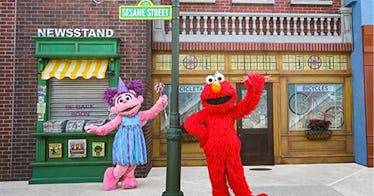 So, if your kid has been clamoring to see Elmo and Big Bird in-person, this news might be for you. As amusement parks like Walt Disney World have reopened, another one is slated to open its doors again: Sesame Place, the Langhorne, Pennsylvania amusement park that features characters from the beloved PBS TV series. The park will begin a "phased reopening" this week, on July 24.
What does that look like? Well, the park says that they have put in lots of safety precautions in place. Sesame Place will require that all guests older than 2 must wear a mask when not eating or in a "relaxation areas." It will also operate at a limited capacity to promote physical social distancing and require temperature checks for both guests and employees at the park's entrance. The park is also temporarily closing some of its rides, such as Mini Monster Clubhouse, and won't be holding parades or events like Elmo the Musical Live. Marc Swanson, the interim CEO of SeaWorld Entertainment, the parent company that owns Sesame Place, wrote, "These protocols and guidelines will be modified based on evolving industry standards and methodologies, public health and governmental directives, and advancing scientific knowledge on the transmissibility of COVID-19," as per PopSugar.
Another thing to keep in mind: all guests are required to make a reservation to go to the park. For now, the park will only open on Fridays, Saturdays and Sundays. But even with health safety measures, how can the park make sure that people only take off their masks in "relaxation areas"? Sesame Street has been promoting social distancing on its show with specials like "Elmo's Playdate," so we'll just have to see if the park can actually maintain social distancing practices in what is likely to still be a crowded amusement park.