'Sesame Street' Is Moving To a Brand-New (Not Free!) Streaming Service
A ton of new Sesame Workshop content is coming to the as yet unlaunched streamer.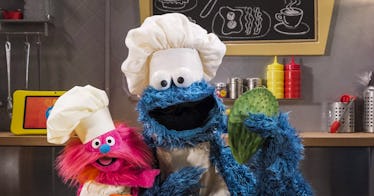 It's been over three years since the Sesame Workshop signed a deal to bring first-run episodes of Sesame Street from PBS to HBO. Now, it's making another significant move to the premium cable channel's upcoming streaming service.
Five new seasons of Sesame Street—175 episodes total—will be produced for HBO Max. The existing 50 (!) seasons of the show will also be available to stream on the service.
If you don't currently have HBO and don't plan on subscribing to HBO Max, not much will change. A few months after they debut on HBO Max, new episodes of the show will still make their way to PBS Kids, as will the slew of new content announced alongside the deal.
In addition to the five seasons, HBO Max will also be where a ton—a ton—of new content from the Sesame Workshop will debut.
An animated version of The Monster at the End of the Book
A family-friendly talk show called The Not Too Late Show with Elmo
Another season of Esme and Roy
A documentary that tackles difficult issues from a child's perspective
Two new animated series, including a spinoff of the original show called Mecha Builders
Additionally, the service will have a hub for Sesame Street content that will include, in addition to everything already mentioned, The Furchester Hotel, a British spinoff of Sesame Street.
All of this new content is good news, to be sure, but the bottom line for parents remains pretty much the same. As long as new Sesame Workshop content makes its way to PBS Kids on a delay, parents and kids who are fine waiting don't have much of a reason to pay for HBO Max.