The Best Moments from the Sesame Street Racism Town Hall on CNN
They might help your kids understand what's happening.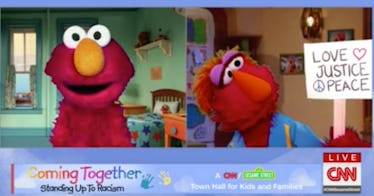 CNN
Saturday mornings used to be reserved for cartoons, but this past Saturday kids were treated to a very different kind of programming for kids. Less than two months after its COVID-19 town hall for kids, Sesame Street returned to CNN for "Coming Together: Standing Up to Racism," another town hall special featuring both CNN journalists and Sesame Street favorites trying to illuminate issues of racism and police brutality for young people.
Here are some of the best moments from the special.
Louie and Elmo Discuss Racism
Elmo's dad Louie — yeah, Elmo has a dad — defined racism for his son and then took a stab at what parents know is the harder half of that conversation: explaining why it persists.
"Not all streets are like Sesame Street. On Sesame Street, we all love and respect on another. Across the country, people of color, especially in the black community, are being treated unfairly because of how they look, their culture, race and who they are," Louie explained.
"What we are seeing is people saying, 'Enough is enough.' They want to end racism," he continued, explaining why so many protests have been happening. Spoiler: Elmo decided that he wants to end racism too.
Abby Cadabby on How She Stood Up for Big Bird
Abby Cadabby, a relatively recent addition to Sesame Street who made her debut in 2006, spoke to an experience she had standing up for a friend who experienced prejudice.
"My friend Big Bird, he was bullied by some other birds because of his yellow feathers and because of how big he is. And it wasn't kind, and it wasn't fair, and, well, I wouldn't want to be treated like that so I understand how Big Bird was upset," she said.
"You're a really good friend Abby, and you were showing a lot of empathy," CNN commentator Van Jones replied, explaining that empathy is a big word for understanding how someone else is feeling.
"I told him that the yellow color of his feathers and his big size is what makes him so special and that he should be proud of who he is and that those other birds were wrong. And then I went and told a grown-up what was happening," she continued.
"I stood up for Big Bird and I will stand up for all my family and friends across the country."
12-Year-Old Discussed His Beautiful Protest Song
Big Bird revealed himself as a fan of Keedron Bryant's George Floyd protest song. The young singer made an appearance on the special, where he further articulated his thoughts and feelings on the current situation.
"I feel that we could all change the world. I want to see change in the racial profiling. We could all be equal, we could all go out and enjoy life and not be afraid, so I feel that we could all live life."
Bryant also shared a message for other young people, the bulk of the audience actually watching the special.
"Don't be afraid to speak up, and don't let your anger take control of your actions."
A Viral Video Reunion
Two young boys, Maxwell and Finnegan whose interracial hug was heard 'round the world in a viral video last year virtually reunited for the special. Their parents talked about their friendship before Maxwell said "Bye Finnegan! I love you!" and Finnegan replied "Bye!" Nine months after their viral moment, the two remain the best of friends.
"Coming Together: Standing Up to Racism" is available to stream for free at CNN.com.
This article was originally published on