Seeing Paul McCartney In Concert Is Expensive. But If You're a Kid, Meeting Him Is Pretty Cheap
Maybe he can be persuaded to sing a few bars.
by Catherine Santino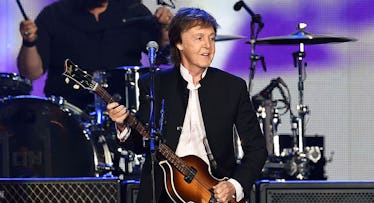 Getty
Attention Beatles fans: we've found a loophole to Paul McCartney's pricey concert tickets. The music icon will be celebrating his new children's book, Hey Grandude! with a book signing at Waterstones bookstore in London – and the tickets are surprisingly cheap.
Alternative Nation reports that the tickets are on sale for £14, which equals about 17 U.S. dollars. Considering that fact that McCartney's concerts typically sell for a few hundred bucks, this is quite the bargain. Customers will not only have the chance to meet McCartney, but can bring up to two children or grandchildren and walk way with a signed copy of Hey Grandude! Guests will also have the chance to meet the book's illustrator, Kathryn Durst.
There's a strict no-access policy for non ticket holders so guests should make sure they've secured a ticket before arriving. The announcement also states that all bags, cameras and mobile phone devices must be placed in a bag drop prior to entering, so it's not known if guests will be able to get photos with the Beatles icon.
The book, which will be published in September 2019 by Random House, is all about McCartney's experiences as a grandfather. The musician and now-author has said that he created the book in order to give grandparents something to read to their grandkids.
Though tickets to the signing are cheap, there's an obvious and unfortunate stipulation for his U.S. fans. You know, the whole…getting to London part. Depending on where in America you're located, a roundtrip ticket to the United Kingdom could buy you a week's worth of tickets to a Paul McCartney concert. So, if you're a U.S resident, it might make more sense to save your pennies for concert tix. Or hold out in the hopes that he'll do a book tour in the States.
This article was originally published on