This Photo of Lennon and McCartney's Sons Together Will Re-Awaken Your Beatlemania
Blink and you might think the picture is a lot older than it is.
by Raz Robinson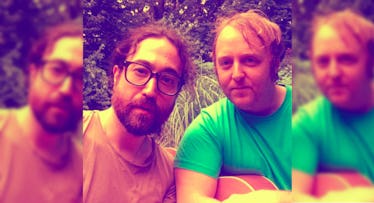 @Sean_Ono_Lennon Instagram
It's often a little unnerving how much kids look like their parents. At the bottom of everything, every person has their own look, but that's what makes it so strange to see someones face and feel like they borrowed entire parts of it from someone else. When Sean Ono Lennon, son of musicians John Lennon and Yoko Ono, posted a picture of himself next to Jamey McCartney, the son of Paul and Linda McCartney, the two seemed to be spitting images of their famous dads and a double take was certainly in order.
It isn't entirely clear why these two were hanging out in the first place but the photo's mere existence has caused some fans to speculate if the two might following it their dads' footsteps and creating their own Lennon-McCartney partnership. At the moment, that's nothing but internet speculation, which is bound to happen when the children of two members of the most famous band of all time are spotted together.
Sean and James aren't alone in their uncanny resemblance to their dads, as nearly all the children of the Beatles look like younger versions of their famous dads. Just like Sean, Julian, John Lennon's first child, also bears a striking resemblance to his old man. Same goes for Dhani Harrison who may actually be a literal clone of his dad George Harrison. Dhani even hit the stage with McCarney a few years ago and it was hard to not feel like we were witnessing the closest thing we can have to a Beatles reunion.
This article was originally published on